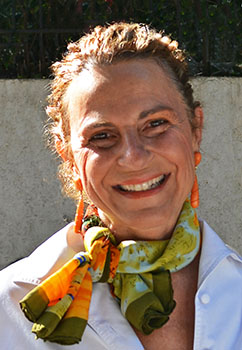 Anna Vossinioti
Supervised SHEN Intern
Mbr: The International SHEN Therapy Association
Dionysos, Athens
Tel: (697) 301-9727
Back in 2005 we lost a young family member. I suffered for 7 years. I felt I had to be strong to support my husband and our two children. My grief was mounting instead of lessening with time. I was getting tired and heavily depressed; I was feeling inadequate both as a mother and a teacher. Nothing seemed to help until a colleague said I should see a SHEN practitioner.
I did and the first session felt so wonderful that I came back for more. My heart started feeling lighter and my chest was relaxed so that I could breath with no difficulty any more. During one of the sessions I had a huge burst of fear and remembered a terrible event from my childhood. I cried and wept and then began to laugh. It was all over. After that I felt liberated from my anxieties and enjoyed life ever since.
I decided that I wanted to train as a SHEN therapist and be able to help others. SHEN is now a major part of my life in addition to teaching as I now see colleagues, students and parents who grieve or have other issues. Very often students and their parents are stressed about poor school performance, inability to decide about future careers, peer relations and bullying, difficult child-parent relationships, eating disorders, parents divorce or loss of a beloved family member. As a teacher I also understand that school life may not be easy for colleagues either. Teachers are often over-stressed due to the heavy workload, the increasing demands of the job or because of feeling inadequate.
"To be able to help others with their problems is a blessing; I am invigorated by every client's progress."
Call me at: (697) 301-9727
or you can email me at
annavossinioti@yahoo.com