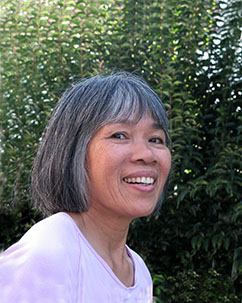 Sao Trinh
Supervised SHEN Intern
Mbr: The International SHEN Therapy Association
Glendowie, Auckland
09 575 9174


After many years working with a counsellor, I realized that I was suffering from Post Traumatic Stress Disorder caused by war, heavy childhood punishments and the many operations I have had. These slowly developed into panic attacks, anxiety, depression, fear, insomnia, irritable bowel syndrome and allergies. The cognitive therapy gave me some relief but was unable to significantly free me from the emotional burden I was carrying. Then I came across SHEN.
Within a short time I experienced a profound change. SHEN enabled me to let go of painful emotions and physical pain that had been holding back my life. Now I am enjoying a much healthier physical and mental state and above all I can live my life in freedom, peace and joy. SHEN has made a major contribution to my new life.
At the present, I am an Intern training to be a SHEN Therapist.
I am passionate about helping others to resolve their physical and emotional pain and restore their lives.
Please contact me to discuss SHEN and/or arrange a session.
You can email me here: